Wednesday, October 9, 2019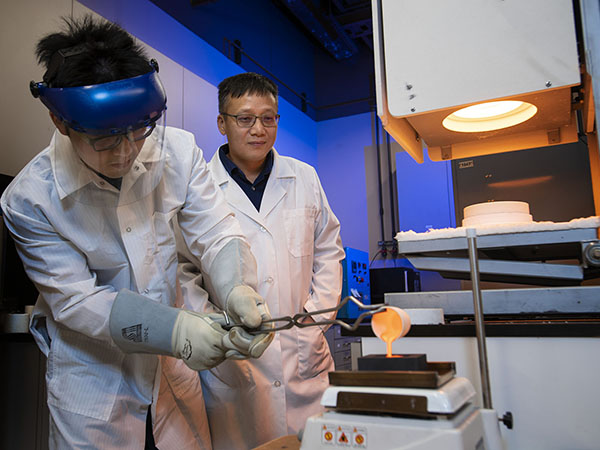 UNT Engineering professor Jincheng Du's glass research is a labor of love that has resulted in a Fulbright U.S. Scholar Award, sponsored by the Department of State, the International Commission on Glass's W.E.S. Turner Award and Corning's 2019 Gordon S. Fulcher Distinguished Scholar Award.
"Jincheng's awards shine a spotlight on the world-renowned faculty we have here in our Materials Science and Engineering department," said Hanchen Huang, dean of the College of Engineering. "As a member of our faculty since 2007, he has invented glass to contain radioactive waste and has received both national and international accolades for his work. He's also published 150 journal papers and co-authored a book about computer simulations of how glass materials interact at the molecular level. He does all this and teaches classes and advises students, too."
Through the Fulbright U.S. Scholar Award, Du will conduct fundamental glass research at the Federal University of São Carlos in Brazil, home to the Center for Research, Technology and Education in Vitreous Materials – one of the top research centers on glass materials in the world.
The International Commission on Glass is the largest organization in the field of glass science and technology. For the last eight years, Du has served as the chair of an ICG technical committee. The W.E.S. Turner Award recognizes the notable contributions he made through his work to grow the committee and promote the modeling and simulation of glass at the atomic level among the scientific community.
Corning, an internationally-recognized innovator in materials science, selected Du for its Gordon S. Fulcher Sabbatical Program. As a Fulcher Distinguished Scholar, Du will spend three months performing collaborative research at Corning's Sullivan Park Science and Technology Center in Corning, New York. While there, Du will work with Corning scientists to pursue two separate research paths that have potential applications in photonics and optical devices, as well as the surface treatment of glasses for display and other applications.